The Ark Citadel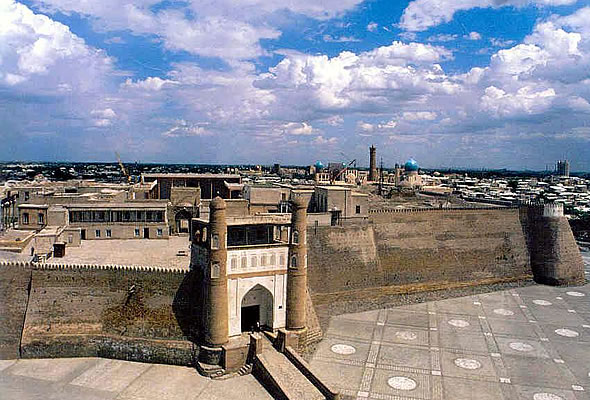 The Ark citadel is the oldest architectural monument in the city. Up to 1920, the citadel had housed the main residence of the Bukharan rulers. It occupies an area of 3.9 hectares. According to archeological excavations, the foundation of the citadel dates approximately back to the 4th-3rd centuries B.C. The citadel was erected on the artificial hill 6 meters high.
The construction layout indicates that Ark is a closed polygonal structure built from west to east. The citadel walls survived up to this day are about 16-20 meters high and 789 meters long.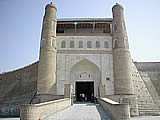 The steep slopes of Ark in antiquity were surrounded with massive packed clay; later they were replaced with adobe bricks. The foundation of the citadel and its towers were erected with burnt bricks. In the course of its long history, Ark had faced repeated constructions and destructions and for many years it had been in ruins. The citadel was rebuilt in the 7th century under the reign of Bukharkhudat, a local ruler.
During the Samanids' period, in the 9th -10th centuries, the citadel was reconstructed and fortified with the walls and towers and different household buildings.
In the 16th century, under the Shaybanid dynasty, Ark got its modern shape. The citadel had two gates – Guriyan, the eastern and Registan, western gates. The Guriyan gate was destroyed in the second half of the 16th century. The Registan gate of the 19th century has survived until now.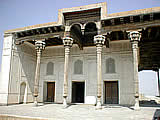 The remaining structures in the citadel belong to the Ashtarkhanid (17th c.) and Manghit (18th –20th cc.) dynasties. These are kurinishkhona, audience chamber, the throne hall (18th c.), the Friday mosque (18th c.), Qushbegi bolo, the prime-minister's courtyard (19th-20th cc.), salomkhona, the greeting hall (19th -20th cc.), and sayiskhona, the stables (19th – 20th cc.)
At the beginning of the 20th century, Ark was the city in itself. It housed the palace for rulers, offices for high-ranking authorities and military officials, craftsmen workshops, treasury, arsenal, homes for courtiers and their relatives, and storerooms for clothes, carpets, arms, and palace treasures. About 3,000 people lived in the citadel.
The eastern part of the fortress was destroyed in 1920 during the anti-monarchy revolution. Now it is an archaeological reserve. In the eastern part of the citadel are the Battol-Ghozi khonaqo (18th c.) and the Childukhtaron (40 girls) mosque. The latter was built in the memory of 40 girls, who were slaughtered by emir Nasrullakhan's order. In the southern part, one could find the Khonaqo mosque (19th c.) and the ruins of the emir's bath.
Currently, the citadel houses the following departments:
The history department (prehistoric period-the 20th century)
The department of numismatics and epigraphy
The department of nature of the Bukhara oasis
"Literary Texts" exhibition
The depositories of the museum – preserve are placed in the basements of the Ark citadel.