Sitora i Mohi Khosa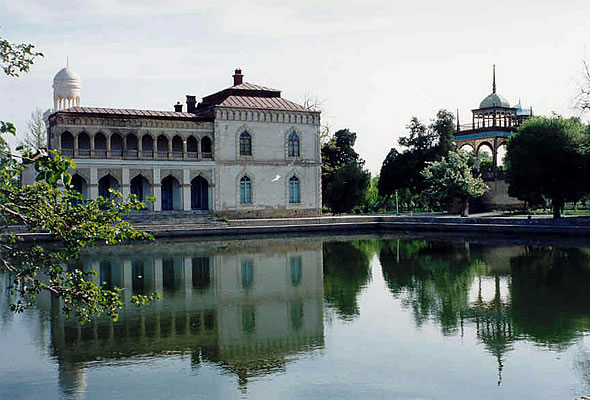 The history of the palace
Sitora-i Mohi Khosa, the summer residence of the last Bukharan emirs, is situated 4 km north of the city. The old palace was built in the second half of the 19th century by Ahadkhan, father of the last emir of Bukhara. Yet Ahadkhan's palace has partly survived to this day.
To the east of Ahadkhan's residence, a new European-style palace was erected. The palace had a big garden with the flowers, vineyards, orchards, and zoo (haivonot-khona). The garden occupied 6.7 hectares of the palace area. The whole territory of Sitora-i Mohi Khosa was surrounded with high, packed-clay walls, which resembled a fortress.
The construction of the new palace had lasted from 1912 to 1918.The best masters of Bukhara as well as the Russian engineers Margulis and Sakovich, who served under the last Bukharan emir, were drawn to the palace construction. To decorate and equip the palace, the mirrors, Dutch tiled stove, crystal chandeliers and furniture were brought from Russia. The main entrance of the palace was decorated with two marble lions made of the Ghazghan marble and skillfully carved by Bukharan masters.
The history of the museum
The museum of the decorative-applied art was established in 1927. Up to 1947, the museum had housed the "Way of Life of Bukharan Emir" exhibition; from 1948, there was the exhibition featuring the objects of folk art.
In 1974, the palace had the "Museum of Applied Art" exhibition, which reflected the finest examples of decorative art of the peoples of Central Asia.
Today, the country palace has the following exhibitions:
"Interior of the summer palace" (the main building). The interior houses the royal furniture of the 19th – 20th centuries, Japanese and Chinese porcelain, palace artifacts from Russia, jewelry items by well-known Bukharan masters, and gold embroidery panel and horse-clothes.
At the center of the garden there is the octagonal pavilion, which in the past received the palace's guests. The pavilion demonstrates the exhibition called the "Clothes of Urban Dweller of Bukhara in Late 19th and Early 20th Centuries." The exhibition includes the collection of rich people's clothes, belts, scarves, and shoes decorated with gold embroidery.
In the southern part of the garden is located the third block of the palace. The block comprises a two-storeyed brick-made building with the conservatory, wooden pavilion, and pond, which is faced with the gray Gazghan marble. The pavilion has the exhibition reflecting art embroidery of the Bukhara region and crockery items of daily use (late 19th – early 20th cc.).
The embroidery collection includes suzani, wall decoration panel, joinamoz, praying rugs, takiyapush, pillow-cases, and chimiliq, embroidery curtain for newly-weds.
Contact Information:
Mokhi Khosa district, Bukhara
Tel: (365) 228-50-47